Quality Veterinary Service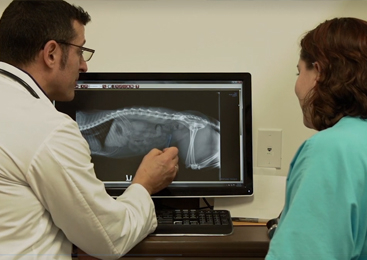 The care that they need
Your pet is one of your beloved family members; there's no reason you should sacrifice the quality of care that they receive. Whether you just don't know which vet to trust or don't know who you can afford, at Pet Medical Center of Boca Raton we provide you with both.
With the reasonable cost of our On Point Health Plan, you can have the best in town and give your pet what they deserve. Our loyal staff is composed of loving, compassionate, talented, and highly-trained professionals, who believe in treating your pet like it's their own.
From providing you with every detail you need to know to raise a loyal furry friend, to knowing the signs of seriousness illness, we go out of our way to ensure that you have the care that you need.
A friend for your friend
To us, it is not just about treating your pet; it is about making you feel like you have a friend in the business that you can count on to be there for all your needs, big or small. We believe in providing you and your pet with the friendly, compassionate care that you need no matter how serious a situation may be.
Our goal is the same as yours: to give you and your pet a long, fun, happy life. The better preventative care that you give them, the better off they will be in the long-run. From that wet nose kiss to the rough tongue lick, your pets will thank you for choosing our veterinarians.
Our services at PMC include
Preventive care
On Point Health Plan
Adoption
Vaccines
Microchipping
Diagnostic Testing
Digital Radiography
Dental Cleanings
Dental Surgery
General Surgery
Orthopedic Surgery
Spay and Neutering
Behavior Counseling
Nutritional Counseling
Medications
Flea Control
Intestinal Parasite Treatments
Dermatology
Cardiology
Referral Case Management
And More!