Quality Veterinary Service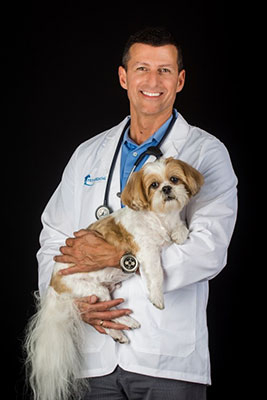 Dr. Tim Hughes has many years experience caring for pets and their pet parents. He graduated from Virginia-Maryland Regional College of Veterinary Medicine in 1990. He practiced at veterinary clinics in Northern Virginia for a few years before moving to the Boca Raton area in 1998. He spent his time continually expanding his knowledge and skills building a large client base in the Boca Raton Banfield Pet Hospital. He also worked as a Regional Medical Director growing his responsibilities to eventually overseeing 144 hospitals in the South-Eastern United States. He mentored and coached many doctors during that time to have successful careers as veterinarians.
He is one of the owners of Pet Medical Center of Boca Raton and brings his vast knowledge and experience to help pets in his community. Dr. Hughes is known for his excellent communication skills and caring touch with pets. Tim has two Shih Tzu's named Buster and Bentley. He looks forward to meeting you and helping your pets live long and happy lives.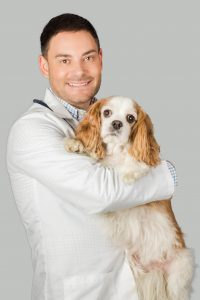 Dr. Philippe Roof is originally from Montreal, Canada, where he first obtained his Bachelor of Science from the renown McGill University, and later earned his veterinary degree from the University of Montreal. After graduating in 2006, he moved to south Florida where he has been working diligently to build relationships with thousands of pets and their families, helping them improve their health and quality of life. During the past 10 years, Dr. Roof has also actively worked at improving his surgical and medical skills, as well as coaching many new doctors in the art of veterinary medicine.
Dr. Roof is one of the co-owners of Pet Medical Center of Boca Raton, and brings his vast knowledge and experience to help pets in the community. He is known for his friendly and family style approach to both pets and their owners. He also has one Cavalier King Charles named Dolce, and a cat named Naya. He looks forward to meeting you and helping your pets live long and happy lives