Quality Veterinary Service
Have a Pet Medical Center Pickup Your Pet for Care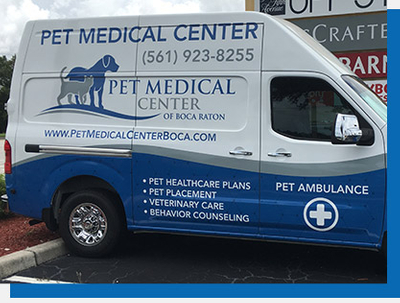 We know how busy you are or that sometimes it is just hard to get out of the house. Pet Medical Center of Boca Raton wants to help out when the need arises. We will pick up your pet at your home or office, provide the care that it needs and bring them back the same day.
Just schedule 24 hrs. in advance and we will take care of all your pet's health care needs during the stay. One of our trusted team members will arrive in our pet ambulance and ensure that your best friend will have a safe and comfortable trip. The doctor and hospital team will contact you when everything has been completed and coordinate with you for the return trip.
Give us a call and we can book your appointment and discuss any questions you may have.